PLAN TODAY FOR A MORE COMFORTABLE TOMORROW!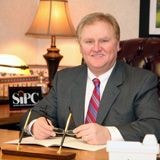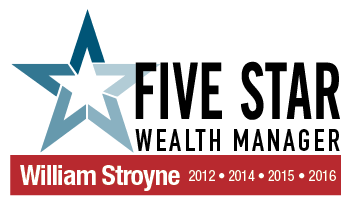 William J. Stroyne Financial Services named  FIVE STAR Wealth Manager in Pittsburgh 
The FIVE STAR Wealth Manager list is created by Crescendo Business Services LLC. 1,064 Pittsburgh wealth managers were considered for the award; 423 (40% of the candidates) were named 2016 Five Star Wealth Managers.Award candidates are identified by one of three sources; firm nomination, peer nomination or prequalification.. Wealth managers were evaluated across ten criteria: (a) Credentialed as an investment advisory representative or a registered investment advisor; (b) Actively employed as a credentialed professional in the financial services industry for a minimum of five years; (c) Favorable regulatory and complaint history review; (d) Fulfilled their firm review based on internal firm standards; (e) Accepting new clients; (f) One-year client retention rate; (g) Five-year client retention rate; (h) non-institutional discretionary and/or non-discretionary client assets administered; (i) Number of client households served. (j) Educational and professional designations. Favorable and unfavorable evaluations are included in the score. Each wealth manager is reviewed for regulatory actions, civil judicial actions, and customer complaints. A favorable regulatory and complaint history is defined by Five Star Professional to mean that the wealth manager has not:  *Been subject to a regulatory action that resulted in a license being suspended or revoked, or payment of a fine; *Had more than a total of three settled or pending customer complaints filed against them with any regulatory authority or through Five Star Professional's consumer complaint process; *Individually contributed to a financial settlement of a customer complaint filed with a regulatory authority; *Filed for personal bankruptcy; *Been convicted of a felony. Five Star Wealth Managers do not pay a fee to be considered or placed on the final list of Five Star Wealth Managers. Scores reflect an average of all respondents and are not representative of any one client's evaluationThe Five Star award is not indicative of the wealth managers' future performance. Wealth managers may or may not use discretion in their practice and therefore may not manage their clients' assets. Working with a FIVE STAR Wealth Manager or any wealth manager is no guarantee as to future investment success, nor is there any guarantee that the selected wealth managers will be awarded this accomplishment by Five Star Professional in the future. The inclusion of a wealth manager on the Five Star Wealth Manager list should not be construed as an endorsement of the wealth manager by Five Star Professional or the magazine. Five Star Professional is not an advisory firm.
Decisions made when claiming Social Security retirement benefits can make a big difference in spousal and other dependents' survivor benefits.

This article discusses corporate credit ratings and some differences between investment-grade and speculative-grade bonds.

This article presents five steps that could help focus and enhance a retirement savings strategy in 2021.

As a consumer, have you noticed shortages? Here are some of the reasons behind supply-chain problems and how they might impact the economy.
Determine whether you should consider refinancing your mortgage.

How much will it cost to pay off a loan over its lifetime?

Estimate of the maximum amount of financing you can expect to get when you begin house hunting.